Intel Jump Starts CES 2017 With News and Experiences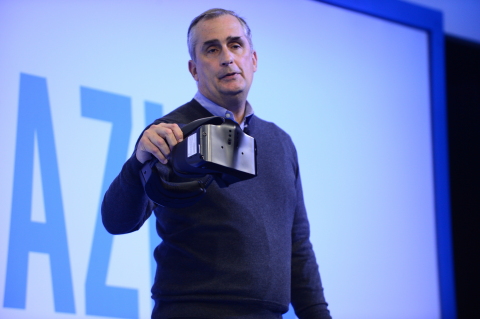 SANTA CLARA, Calif.--(BUSINESS WIRE)-- Before CES 2017 began, Intel kicked off the event with announcements cementing its role as a leader in automated driving and 5G technologies and as a home for innovation in virtual reality -- or the more advanced merged reality.
This Smart News Release features multimedia. View the full release here: http://www.businesswire.com/news/home/20170104006571/en/
Audience members use virtual reality headsets to experience a series of travel, work and play situations as Brian Krzanich, Intel chief executive officers, speaks at a company news conference on Wednesday, Jan. 4, 2017, in Las Vegas. Intel Corporation presents new technology at the 2017 International Consumer Electronics Show. The event runs from Jan. 5 to Jan. 8, 2017, in Las Vegas. (CREDIT: Walden Kirsch/Intel Corporation)
Intel's leaders displayed the company's commitment -- announced at last year's CES -- to expanding the boundaries of technology to make amazing experiences possible.
"The pace of technology improvement is accelerating faster than ever," said Intel CEO Brian Krzanich at an immersive VR news conference he hosted Wednesday afternoon. "Moore's Law is at the center of this acceleration. Technology is extending far beyond consumer electronics, defining almost every aspect of our lives, and transforming industries."
During the news conference -- and in an editorial – he also articulated the company's vision for the future of VR and merged reality technology and how these technologies will reinvent the experiences of travel, work safety and productivity, and sports and gaming.
Krzanich led the audience through a series of pre-recorded and live VR experiences, starting with an immersive wingsuit flight over Moab, Utah. Audience members experienced the Ban Gioc waterfall, one of Vietnam's most breathtaking natural sights. They went on a low-altitude drone-powered inspection of a Nevada solar power plant. They sat courtside at an NCAA basketball game. And they experienced a zombie apocalypse in the new "Arizona Sunshine" VR game. All the experiences were powered by 7th Generation Intel® Core™ processor-based PCs and Oculus Rift VR headsets.
A replay of today's news conference will be available in the Intel Newsroom. It's also the home for all Intel news and updates related to CES 2017.
View source version on businesswire.com: http://www.businesswire.com/news/home/20170104006571/en/
Intel
Laura Anderson, 480-552-9020
laura.m.anderson@intel.com
Source: Intel
Released Jan 4, 2017 • 9:12 PM EST